My weekend
Somehow Mondays seem entirely tolerable when the weather is lovely, the air is crisp, and the occasional thunderstorm rumbles through. I spent a great weekend in Dallas with my birth mom, Kim. We took the opportunity to have a girls' weekend getaway, and it was just so much fun.
Kim and I were reunited two years ago, via Facebook of all places, and after chitchatting via email, etc., we met up for lunch and then we just never looked back. We live a few miles apart, and it has been nothing but wonderful to get to know her, her husband and awesome boys (who are in college), and my biological grandparents. Every single one of them is precious to me.  Our story is so distinctive and so special, and it just reminds me that God has interwoven our lives in such a marvelous way. His plans are not like our plans; His ways are not like our ways. And inevitably, His plan is always better than the plan we could make up for ourselves. I was adopted at birth and had such a marvelous growing-up and the best parents ever, and then after Jude was born, I had a very strong desire to tell my birth mom just how thankful I am that not only did she choose life for me, but that I was also so very much in awe of the most enormous sacrifice that she had made. I cannot imagine giving up a child. There are no words for that. She's so so brave, and I am so proud to be a part of her.  My parents were super supportive of me getting in touch with Kim, and they spoke often about Jude and how similar he and I are – Mom repeatedly said, "I think Kim needs to see Jude because he's just like you were when you were little, and it will just bless her socks off."
Anyways, all that to say, we had an incredible weekend together, and I'm just pleased as punch. We had fun trying on clothes at Anthropologie, experimenting with mango-scented lipsticks, exploring the sheer wonder that is the Container Store (le sigh), and eating til we popped.  How lame am I – I didn't bring my camera nor did I take a single picture.
We were both really impressed with Anthropologie's window displays right now. These photos are from Anthro's Facebook page.


I remember making little Christmas ornaments in school just like these – except these are WAY bigger than the ones I made. Cut cardboard and then painted – so gorgeous.


Kim also bought me the PRETTIEST necklace there. I can't find the exact image online, but this is the same necklace in a different color. It's so shiny and sparkly.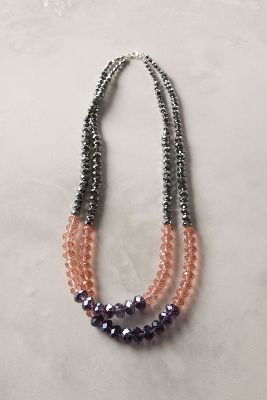 Also, at Container Store (where I could easily spend hours indulging in my desire to itemize), I picked up a roll of Elum's gift wrap i this faux bois print. I think it will be perfect for Jude's birthday party.

We spent a long time at Ikea, indulging in Swedish cookies and testing out their variety of pillows, looking for the right ones. Their Christmas decorations are already out, and there were some really cute ones. I also picked up one of these felt stars (in white) that have lights strung inside. It's going to be cute for the holidays.  Admittedly, their Christmas stuff was all red white and blue, which I'm assuming in Sweden doesn't have quite the cultural significance that it does here in the US, so it does seem really 4th of July.

Kim picked up these gorgeous Mercury-glass-esque candle holders. I'm kicking myself that I didn't buy any. Come Christmas, they would be so gorgeous on the mantle or on the entryway table. You simply cannot beat these for the price – around $7-12 depending on the size. You could easily snatch up a bunch of them for dramatic effect for under $30.

One of my favorite things we did was test out Breadwinners' Cafe at their Uptown location. Foodie friends have been telling me for years to go check it out, but this was the first time I've made it happen. And I was so glad we did. Located in a quaint old building, the decor was so enchanting what with the old brick exposed walls, long hallways, quirky little rooms, courtyards, and even rooftop terrace. These photos are from Breadwinners' Flickr stream:


Check out these light fixtures – I LOVE them.

All in all, a great weekend. Now on to another busy week!
Subscribe
Subscribe to our e-mail newsletter to receive updates.