How to find the best decor on eBay & get your home holiday ready
True story: I've been an eBay member for longer than I've been married. Since December of 2000(!) I've been hunting down many prized finds which I've shared here — and it's absolutely my #1 secret weapon in finding the best stuff (not to mention at the best price). But I'm consistently surprised that a lot of people are still a little gun-shy about it.  I got an email a few weeks back from eBay enquiring about doing a sponsored post and my response was basically "Hold my drink. I've already had this thing written in my head for, oh, five years."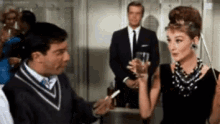 A selection of things I've purchased over the years on eBay: a bicycle, vintage posters, designer shoes (yes!!), handbags, Milo Baughman style vintage chairs, electronics (I remember you, circa 2003 iPod with the spinny wheel), vintage Christmas ornaments, accessories … I mean, the list is literally endless.  And let's not overlook the thrill of the hunt, am I right?
But hands-down, my best eBay finds have always been decor-related (like that vintage campaign desk I scored years ago), and with the holidays approaching this is the time to get your home ready for the myriad friends and family that are no doubt on their way over.  Nothing like a deadline to get that project you've put off all year finally complete. Think bargain rugs (remember my secret rug source?), furniture finds that are ready for a fresh life, and all the holiday decorations (like the putz houses below which I found last year on eBay) you can possibly imagine.
MY FAVORITE HOLIDAY BUYS ON EBAY:

Here are my top tips on how to search – and get – what you want on eBay:
Is everything pre-owned?
Nope. There's plenty of new items in addition to all the vintage or pre-owned goodies. Pay attention to the listing descriptions and read it carefully.
Do I have to participate in an auction?
No.  In fact, 81% of the merchandise sold on eBay is new and available via the "Buy It Now" option. Auctions are great but definitely set the notifications on your phone to warn you if you get outbid at the last minute.
How do I find exactly what I want?
Use both specific and broad search terms. For example, when I was searching for vintage putz houses last year for Christmas, I looked for "glitter houses", "Christmas putz," "putz houses," "lot putz houses", etc. Think outside the box on search terms too. Sometimes a seller might not know exactly what an item is, so a broader search might help you find a hidden gem.
Can I return items?
It depends; be sure and always read the descriptions, and pay attention to the seller's feedback ratings. Sometimes things are returnable and others aren't. Communicate with the seller and don't be afraid to ask questions.
Happy hunting!
Subscribe
Subscribe to our e-mail newsletter to receive updates.