A wee tiny makeover
I'm not totally ready to reveal my office makeover as there's a few details I'm still attending to. At this point I've probably yacked on too much about it and you're going to be totally underwhelmed. It's not that different than it was.  But I have enjoyed transforming it.
One of the pieces I wanted to modify was our ye olde IKEA dresser from when we were newlyweds. If memory serves, this was the first piece of furniture we purchased as a married couple for our little cute love nest.  You can see it below in its original glory, minus one of the drawer pulls.
I really wanted to move this thing out and sell it on Craigslist. But as I sat there and considered my budget, I thought that perhaps there could be new life breathed into that old dresser.  It was just so dark and blahhh – not the glamorous fabulous office that I was envisioning.
Enter MyOverlays.com. I can't remember where I first stumbled on them, but I was really impressed by their fretwork designs that can be applied to existing furniture, like my IKEA stuff. Check out some of their designs shown below. The hardest part was picking the pattern! I seriously sat in front of the computer and agonized over what to pick. I could go nuts with their stuff.

Cool, right? I'm dying over that cobalt blue number.  And it was reasonably priced, too. So I measured my dresser and ordered up a couple of pieces. They arrived a couple of weeks later ready to apply.  But first I painted the dresser with leftover paint from Jude's room makeover — Martha Stewart's Heavy Cream, but mixed in Behr's premium paint w/ primer.  Heavy Cream is such a gorgeous color. It is totally my new favorite white as it seems to look good almost anywhere. Not too ivory, not too cold white. Just perfectly creamy white!
Here's the finished product, awaiting the new knobs I picked up in Dallas this week!
I'm really happy with how it turned out. The paint went on nice & thick and the coverage was perfect. It took several coats to get it right but it was worth the time. And the overlays look great, too!
As for the hardware, I wanted something bold and glamorous and what's better than crystal? The Cabinet Carat knob from Anthro fit the bill perfectly.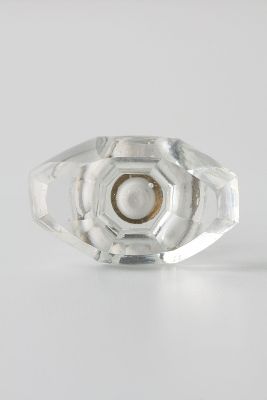 So there you have it – a brief little before & after!  Can't wait to show you the rest – the lamp in particular!
Subscribe
Subscribe to our e-mail newsletter to receive updates.