Craigslist, you were good to me

Timing is everything in life, n'est-ce pas? Wednesday night, Simon and I were laying on the couch, watching TV, and I was surfing Craigslist. I happened to get really lucky and found a listing for a gorgeous bergere chair for (get this) $65. I mean, that is sick. I've looked at them in furniture shops, identical to these, for $400 and up. Even if the fabric was totally crappy, I couldn't pass up $65. I emailed the seller immediately and got a very quick response and we planned to meet Thursday afternoon.


I took one look at it, and said, "Sold!" The girl who was selling it said she had gotten 14 phone calls after my email from various people, so I didn't even bother to talk her down. I think I felt bad that she was selling it for so dirt cheap! The fabric is really soft, and in a nice creamy basketweave. The cushions are soft and pillowy. Oh, that navy pillow in the photo is one we already had — I just stuck it on there to see what it would look like. Right now, it's sitting in our bedroom, but we'll see where it ends up. it's such a versatile piece, I think I could make it work in almost any room.
Oh, did I show you my $10 lamps? I don't know if I did or not – they're in that photo on the nightstand above. I got a pair for $10. Total. The fabulous, connected Dr.Erin told me and Dr. Christa to go check out this place called the Rink. It's an antique store, basically, that's housed in an old ice skating rink. I found those lamps in $10 Corner, where everything was $10. I thought about painting them, but decided to leave them as is. I also considered buying up another pair that was poop-brown and redoing them and then selling them. Would anybody buy them if I made them cool? Those lampshades came from the Pottery Barn on clearance. They cost more than the stinkin' lamps!
If I could have it any way I liked, I think I would like to find a really fantastic fabric for it, and do a makeover that turned out similar to this:
Or maybe this one:
Or, bien sur, this:
More Flickr faves:
Couldn't you just die at this gorgeous fabric? Amy Butler, below.

From Anthro: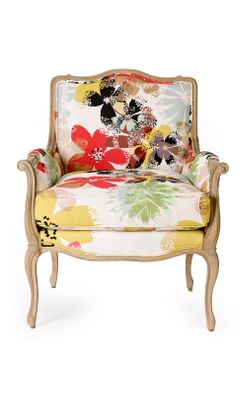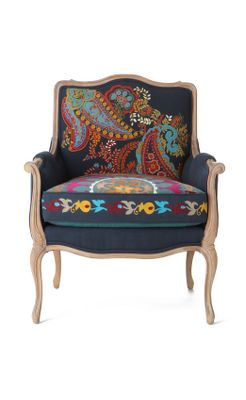 Guess I need to get my bargain-hunting game on for cool fabric. I'll know it when I see it.
Internet, I need to tell you something. I harbor a tiny dream of having a furniture shop. Where I sell not only new fabulous things, but also old pieces that I've found and put my own spin on. I would do lamps, chairs, tables, whatever. A girl can dream, non? Would you shop at my store?
Subscribe
Subscribe to our e-mail newsletter to receive updates.