If you've ever been the recipient of goofy holiday decor, like that chuckling Santa cookie jar or dancing snowman, then this is a post for you. I tend to be a non-themey person. I'm not interested in people walking into a room and thinking, "oh, ok, this is your Paris room" or similar. When it comes to holiday decor, I like to keep it chic and simple, but I do like the idea of special Christmas sheets or Christmas dishes.
This large buffalo check duvet cover and shams from Pottery Barn is so graphic and appealing in the bright red. While it looks a little bit country here in this photo, I can imagine it super-chic against bright white sheets, with pale Robins'-egg blue throw pillows. I'm nixing the toile shown here. Blah.
Buffalo Check Duvet Cover & Sham | Pottery Barn.
Chrysi and I were talking the other day about how we both love anything with a bird motif, and these "Strawberry Fields" sheets from Pottery Barn attracted both of us. Once again, not too themey, but just fun and bright for Christmas. This isn't the best picture of it; if you get the PB Bed & Bath Catalog, there's a way better photo.

Um, how fun is this? If you have a 4-poster bed, you MUST hang beautiful boxwood branches from it! I love it! (image from Pottery Barn)

Ahhh, Crate & Barrel! I wish we had one of you here in Oklahoma City! Look at these fun retro-inspired scallop dishes and cakestand!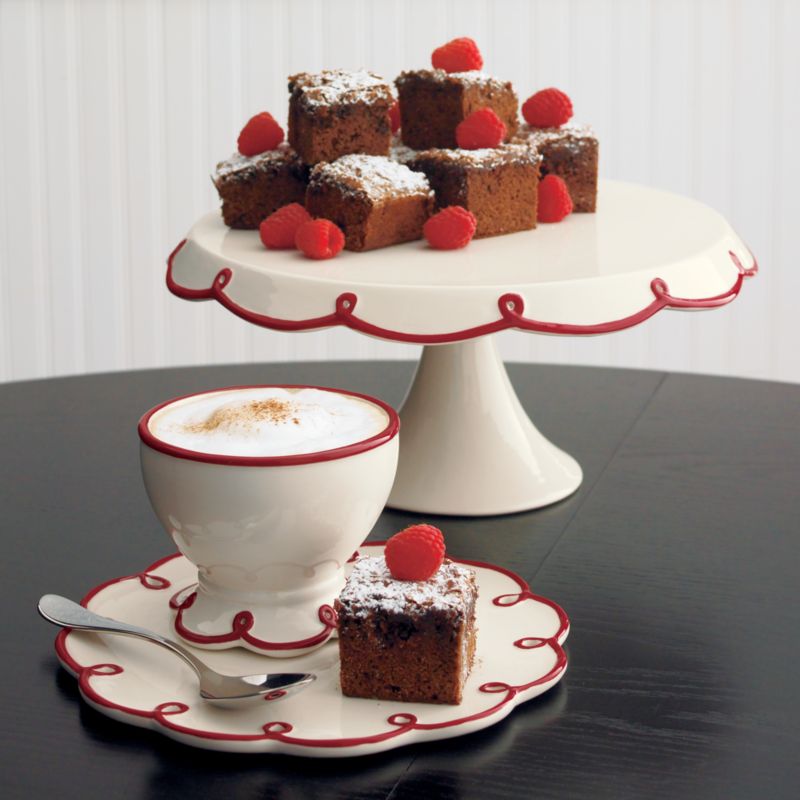 Or maybe these striped espresso cups!