Skirted Console
How was your weekend? Ours was fantastic – our ten year high school reunion was a success and a good time was had by all. More on that later this week maybe?
Ok, so I promised you guys I would show you the skirted console I did. My inspiration was this beautiful Ikat printed table over at Little Green Notebook, via Urban Grace Interiors. I saw it and thought, hmm, I think I could do that. Plus, we were given a folding table a few years ago from my sister-in-law Chrysi's parents, and it was just the right size for a project. Can I just say that a small folding table like this is the perfect gift? We've used it for so many things — if we've needed extra seating for a party or a gift table display for a shower. I highly recommend giving newlyweds one of these!
So I ordered my fabric, a pretty Anna Griffin fabric, and even though it's a quilting weight (read: very lightweight), I was pleased at how it ended up draping.
Here's my before shot, complete with sewing machine:
I took a "during" picture but now I can't find it. I made my "pattern" out of a roll of kraft wrapping paper – you can see a bit of it in the picture above, in the corner. That made it really easy to visualize how it was going to turn out as well as tweak the pleating.
Ok, don't be stupid like me. Measure twice, cut once. I ended up cutting the fabric for the top of the console too short, so I had to sew on two panels on either side to make it stretch all the way across. It doesn't look too terrible, but it did make extra work for me. I think the hardest part of the entire project was attaching the top to the skirt — I admit that I did cheat with fabric glue. 🙂
I bought some grosgrain ribbon at Joann Fabric and used it to trim the top. I didn't need a ton, but if you are looking for an excellent resource for inexpensive trim, get thee to JKM Ribbon. I found it four years ago when I was planning our wedding, and they have all different kinds of trims that are fab and very inexpensive. I'm still using up a roll of ribbon from our wedding!
And voila – the final product! I'm happy with the results – i feel like it's so pretty, and I like having the chair in front of it, like it's a chic little writing desk. No one would ever know its humble beginnings as a folding table! Plus I can hide all kinds of junk underneath that skirt!  ha!
In my wildest dreams, I would put a Louis Ghost chair there in lieu of my painted French chair. I would just looooove a little bit of Lucite in the room! Maybe someday…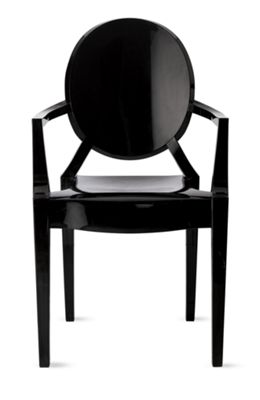 So there you have it. A fun little project for minimal $. I used 6 yards of fabric, with a little bit left over. (FYI: The table is 2'x4′ and 30 inches tall.)  I'm thinking I might use the leftover fabric to cover the seat on one of my bamboo chairs.
Subscribe
Subscribe to our e-mail newsletter to receive updates.