Archer: 13 Months Old
Archer is 13 months old, and with that comes a host of new opportunities daily for adventure and discoveries. Most notably, the fact that he (1) absolutely refuses to walk despite taking a few steps on his own (whoops, nope, better sit down – not gonna do it!) and (2) he wants to climb absolutely everything in sight.
On Sunday, we had baby dedication day at church, where approximately 20-odd families were assembled prior to the service in a tiny very warm room and lined up in an orderly fashion to walk across the stage and pray for the families and babies.
This sounds so easy, right? Except … so not simple. Soooo tricky. First off, if you've never gotten the entire family ready on a Sunday morning to go to church all together at one noted time, allow me to tell you that it is an epic cluster every single time. In fact, let's go ahead and guarantee that the mere act of feeding, bathing, dressing and getting out the door will usually involve a meltdown in some way and I'm 99% certain that it's the Work of Satan.  Every single Sunday is fraught with peril: someone's crying, angry, huffy, or a mixture of the three. And on Baby Dedication Sunday, aka, Allllllll the Family Will Be There On This Momentous Day In Which We Will Dedicate The Life of the Newly Born To The Lord!, this is only compounded. Are the outfits clean? Does everybody's clothes fit? Should we make a last-minute run to the Gap at 8pm the night before to buy pants for Child No. 1 that actually fit? (I bowed out because DANGER! DANGER! DANGER! THREAT OF MELTDOWN IMMINENT).
So back to that small sweaty room where we're all waiting in line and everybody's babies are starting to squirm uncomfortably. I'm texting family members to make sure everyone made it, keep checking to make sure the buttons on my shirt are all buttoned (because squirming baby=unbuttoned blouse=wardrobe malfunction Janet Jackson-style in front of the whole church), and then we're all standing in a hallway and walking one by one onto the stage.
Which is exactly the moment when Archer decides NO. "I have had ENOUGH," he mimes. And by miming, I mean more squirming, wriggling, general squawking, and then, sure enough, unbuttoning of my blouse.
So basically the baby dedication can be summed up with: JESUS TAKE THE WHEEL! AND THE BABY!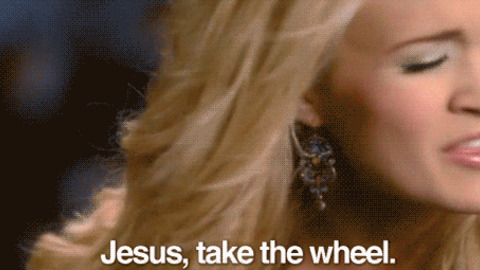 13 MONTH STATS
Loves: mashed potatoes, standing on chairs, jabbering incessantly
Hates: riding in the car (gahhh, STILL!), walking (see photo – now we crab walk because that's SO much easier than actually walking)
Things to remember: temper tantrumettes, molars (4 of them! OY!), muttering under his breath when he doesn't like something, and tiny frankenstein steps
Subscribe
Subscribe to our e-mail newsletter to receive updates.