One Piece Wonders
Have you noticed the influx of amazing one-piece swimsuits lately? I am so relieved. I know – that sounds nuts, but I am. I've never been a bikini girl, and after 2 abdominal surgeries plus a c-section, I am definitely not going there soon without either (a) a personal trainer and (b) no carbs for, oh, 13 years. Or (c) some major plastic surgery. Ha!
Hence the beauty of the one-piece swimsuit.
This one from J.Crew is my absolute FAVORITE. My stomach is a bit lumpy, to put it frankly, after all my (ahem) work, so I need some pattern and ruching to disguise my less-than-flat-tummy.

I love the variety of colors that this one comes in. The hardest part is picking your fave.

I have one of the Lomellina suits from last year, and the fabric is nothing short of divine. It's deliciously smooth and almost shimmery. And it holds up so well after numerous dips into the chlorine.

I adore the design of this one, but as I'll probably be spending any time in a swimsuit chasing a 2-year-old, I probably don't need strapless. I'd like to avoid as much indecent exposure as possible, thankyouverymuch. Plus, this doesn't really scream "I love to swim".  This is more, "Please send the cabana boy to spritz me with Evian and fine French sunscreen, s'il vous plait."

How 'bout a fun stripe? Anthropologie's suits are all retro and whimsical.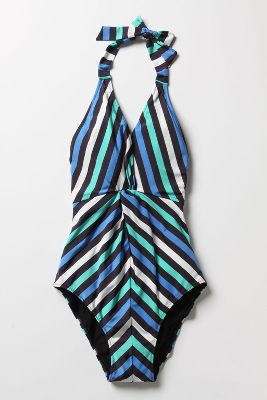 Funky tan lines from this one, but the vintage map print is so delightful.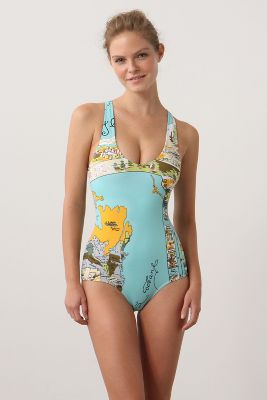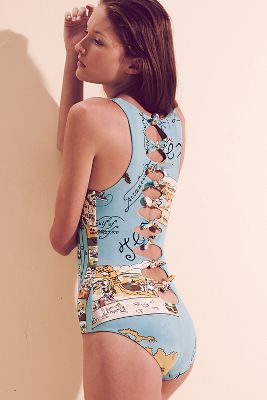 Everything about this one is chic and flattering: deep v-neck, exotic aubergine color, and cinch at the waist. Perfection.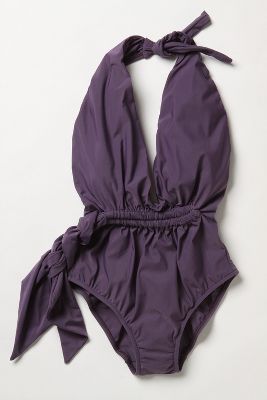 Trina Turk does swimsuit?! I die!!

And from Juicy, I expect nothing but sweetness in ruching & ruffles. Too cute. Probably not for those who want to minimize their thighs/rear end.

Ruffles are the thing – I like this one from ABS, too!

Subscribe
Subscribe to our e-mail newsletter to receive updates.